#ripmywave
THE FULL STORY
"There is a body of good if somewhat disconnected scientific evidence and reasoning, together with local knowledge, but there needs to be more done to understand the phenomena of seiche (milgħuba) and how to defend against them."
SUBMIT YOUR WAVE
EMAIL US
Lessons from a Malta Seiche Escape for Father and 3 Boys
Mediterranean Sea went from flat calm to raging bull to flat calm in just 5 minutes
Martin McDonald, Gozo. September 2019
All bodies of open water have the capacity for calming soul cleansing and for immense tragedy, it's why we should treat water with huge respect. One tragedy was narrowly avoided in Gozo, Malta, when a seemingly freak set of waves collided with the Ghar Qawqla rock and bay formation at around 5pm on Sunday September 1, 2019. It happened without any warning of the dramatic change that was instantly to happen to the swimming conditions and sea safety levels. I feel compelled to share the experience with you in case the same moments should come your way, which I sincerely hope they never do.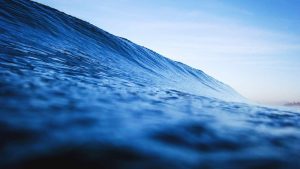 Being Caught Inside Seiche (pronounced "saysh") Rolling Waves can be Terrifying … and Deadly
From personal experience and training, I have always kept a high degree of respect for the sea, for rivers and for lakes. I grew up in London where my local waterway was the River Thames. The river's treacherous currents and legendary whirlpools have claimed many human lives and I've witnessed deathly outcomes from accidents in the river. I have some experience and qualifications across many types of water, including heavy weather long distance sailing, windsurfing, swimming, survival training, and SCUBA diving. Before getting into any water to swim I survey the conditions for safety factors such as waves state, currents, water depths and jellyfish. On Sunday September 1 2019 I had been out swimming at Ghar Qawqla bay in Gozo at around 7 o'clock in the morning, in perfectly calm conditions. Later in the afternoon I returned with my family and friends to the same location and found the sea conditions were calm, with many people enjoying themselves swimming in and sunbathing beside the water.
I and my two sons (aged 7 and 5) and the son of my friend (11) donned our masks (essential equipment for all sea-swimmers at all times in my view, but as it transpired with what was about to happen, even more so for seeing an urgently needed route to survival), and jumped in. We were having fun, calmly exploring the underwater world as we swam along the surface working our way around the submerged and well-explored Ghar Qawqla rock. Then, in search of large stripy legged spider crabs and brightly coloured mini parrot fish, we swam around and into the wide opening of the larger of the two rock lagoons that are part of the Ghar Qawqla rock formation.
We were enjoying the gentle rocking motion of the waves and trying not to frighten away the dozen or so crabs that were looking back up at us from the lagoon floor. I told the three boys that I would check out the smaller lagoon to see if there was anything worth us all seeing. What happened next set off all my red warning lights and alarm bells, firstly because I was not swimming alone but with responsibility for three small boys, also because of the lack of any warning for the immediate intense ferocity with which it struck us.
As I looked towards the small lagoon it disappeared from my view in a tumbling mass of bubbles and phosphorescence. In the space of 5 seconds the water changed from being wonderfully calm and clear fun to becoming like the white water of steep river rapids. I felt the rolling and increasing force of strong waves and immediately said to the three boys that we needed to get out, now.
My initial plan was to go out the way we came. I told the older boys to follow me and swam holding and pushing the smaller of the three in front of me, as we started to exit the lagoon (and because of wearing good goggles) I saw the curling and undertow of the waves. At the same moment I felt the immense power of these freak waves pull my son from my grasp and he tumbled in the water before me. I instantly knew that we were all in very real danger of drowning and it was immediately clear that swimming out to sea was a not an option because the increasing intensity and speed of the series of waves crashing into the rocks would have either smashed us into the rocks or pushed us down under the rocky ledges beneath the waves to be tumbled in the undertow. Because I could see him, I was able to swim in under my son, kick for the surface, pick him up and literally throw him over the rocks and into the larger rock lagoon. I shouted to the other boys to turn back into the pool and swam with them to grab my smaller son. At the moment I had hold of him again an even bigger wave crashed down into the lagoon and I and my son and my friend's son were blasted over the next ledge and into the channel between the rock and the mainland. I felt my knees being shredded on the rocks, and then my entire body being tumbled head over heels like a rag doll in the huge wave. I surfaced with my son, oriented myself on the shore and swam hard, pushing my younger son across the channel to the shore where I threw him up to my friend who was already waiting because of having witnessed the freak waves happening from above us. I looked for my other son and friend's son. I saw that my friend's son was now safe against the shore and that Kurun, the quick-thinking deck chair seller, had grabbed and thrown down the orange life ring to him with the rope ready to pull him up on shore. I immediately turned back into the waves to see my other son still in the lagoon and hear him calling me for help. I swam towards the lagoon shouting to him to jump over to me and at that moment the next big wave smashed into the lagoon and lifted him out and over into the channel. I swam to him, grabbed him gratefully, kicked for the shore and launched him up onto the rock to welcoming hands and safety. The forces at play were immense on every part of my body and I felt the power of the next wave literally pulling my wedding ring from off of my finger. I made a fist and then kicked for my own safety.  
When I got to the ladder, I saw three full grown men arriving, all of them were looking white with shock and also seemingly grateful to be able to get ashore. As I got out of the sea, I looked across to the children who were now in safe family hands, looked back into the churning lagoon, and I had a chilling momentary vision of the alternative that we all so narrowly avoided. It sent a chill and shudder throughout my body, and it may do to yours now as you read about our narrow escape. The sea and God had been merciful to us that day.
Yet right there, in that strange return to normality, lies the danger for future swimmers. Human nature is to shield ourselves from bad news  in the belief "it will never happen to me."
In the space of 5 minutes the tumult was over, and the water was calm and beginning to be filled again with swimmers. Bizarrely it was as if nothing life-threatening had happened. Yet right there, in that strange return to normality, lies the danger for future swimmers. Human nature is to shield ourselves from bad news in the belief "it will never happen to me!", but the fact remains that failures are often the best ways to learn. Without telling the detail of the many coastal area stories of what happened and understanding their causes, effects and potential survival techniques, other swimmers may not be equipped with needed potential knowledge to survive. By sharing feelings and explaining facts about what happened to me and three small boys at sea that day you may be better prepared for similar circumstances.
I later discovered that what happened to the sea on that Sunday afternoon was not entirely unpredictable as a happening. However, it is something difficult to predict and to give specific timings to defend against. There is a body of good if somewhat disconnected scientific evidence and reasoning, together with local knowledge, but there needs to be more done to understand the phenomena of seiche and to defend against them.
The knowledge that a perfectly calm and inviting sea can turn tumultuous in a matter of moments  around midday and 5pm is a potential life saver."
The local advice I have always been given in Gozo if you ever get caught in big waves is to swim out to sea. If we had continued to do this on Sunday, the truth is that I probably would not have been here to share these words of advice with you and I may never again have seen my sons sleeping peacefully in their beds that night. It was the split-second calculation, the decision to go with the waves, to use their incredible force to help us get towards the shore from the Għar Qawqla rocks, that saved all of us.
Naturally I gave much thought during my own restless Sunday night, to how people can be alerted to this kind of event. I came to the conclusion that the only actionable and immediate defence against the freak waves is a word-of-mouth campaign to be shared by all of us, among Maltese and International citizens, and shared with millions of visiting tourists, to avoid the unnecessary deaths we hear about each year in Gozo and around the world, usually close to shore and involving big waves, rip tides and undercurrents and bay areas, freaky or otherwise. To my mind it's not enough to say it is the responsibility of the individual when there is clearly local knowledge of dangers to be imparted and learned by locals and foreigners alike. It's a social responsibility to defend against danger, not to high-handedly criticise victims after-the-fact. It is humane and selfless to make this knowledge sharing a reality.
And so, #ripmywave was born.
Old Wives Tales of the Sea? Certainly Not!
Interestingly, after we were all safe and sound and before the shock of what could have happened to all of us really kicked in, two local elders on the beach told us that freak waves such as those we experienced hitting the shore, are not uncommon in Gozo at midday, and at around 5pm. I was super surprised never to have heard this from anyone nor to have seen any signs warning of these specific phenomena before that moment. I don't consider myself a tourist and have been swimming in Malta many times over many years. My wife is Gozitan and she and her siblings have been swimming at Għar Qawqla since they were small children and she had never, ever heard about this before. There is a sign warning about swimming in rough waves, but if the rough waves are momentary, how can we protect lives against this? The answer is simple: talk about these localised, momentary and violent wave effects, understand the risks and be on your guard. Education is the answer.
Serendipity Can Save Lives
It's a funny thing, when you open yourself to exploration of a specific subject, serendipity kicks in, like some mysterious celestial force. As you share your experience with others, these other people share their experiences in return, and then you realise the needed knowledge has been there in human consciousness all along. What's been missing is drawing the lines between the dots of all these seemingly disconnected personal experiences to create patterns that can translate into life saving knowledge. For example, I needed to visit the garage this week. We got into a conversation about powerboat engines and best propeller choices (I happen to know a little about boats). After we'd scanned the prop charts I briefly shared my Ghar Qawqla experience and was amazed when he explained what had happened to him on Saturday 31 August on his boat. It was around 6pm and he was at a place on the Maltese coast called Hofra Kbira and Hofra Zghira 'Big Hole and Small Hole' in English. Without warning the sea started to roll and shake, as Sebastian looked towards the shore, he said he felt as if the entire coastline was being rolled violently towards him and away from him from one moment to the next. I was incredulous of the effect it had on a cabin cruiser, and it reinforced the power of the waves we had escaped from just the day after this had happened to him.
Sea Pleasures
On a positive note from that eventful afternoon, just a few minutes after the tumult, the Mediterranean Sea had a more joyful surprise to deliver up to us. Two pods of dolphins swam playfully by less than 100 metres from the Gozitan shore. This is something none of us had seen in Gozo before, and perhaps a generous good omen from King Neptune and the spiritual forces all around us.
My Advice from my Experience?
Take time to spread the word on wave awareness. On social media, government handouts at the airport, and with BIG signs wherever there is regular access by people to the sea. Wear good goggles. Take buoyancy aids and noodles. Above all, have fun, be safe and of course, enjoy your swimming. Finally, take time to share your own experiences, those of others, and videos of freaky waves you've encountered. Use your social media channels, groups or write in the comments here. The more experiences we share, the more knowledge we will build and the more lives we can save.
We are inviting swimmers and beachgoers to report any (un)usual wave activity, particularly on the Northern Coast of the Maltese Islands. The focal point for our initial observations and monitoring will be the stretch of coast between Ghar Qawqla in Marsalforn and Xwejni Bay, Gozo (both of which locations have seen multiple fatalities over the years in rough seas).
SUBMIT MY WAVE EXPERIENCE
BECOME A #RIPMYWAVE PARTNER
#ripmywave is looking for partners to implement a wave monitoring programme starting Spring 2020. Please contact us at hello@ripmywave.com for further details. Thank you.